Article owned by team:
Information Systems and Support
Brief:
RDS RemoteApp has replaced Citrix published apps for students using computers at the Robertson Library. Here is what you need to know about file access to the H and I drives, using RDS in the library, printing, use of USB storage devices and how to ensure you log off correctly or switch to the University virtual computing environment.
Detail:
With RDS RemoteApp, you launch one or more published applications. There is no visible operating system as it is only the apps themselves that are published.
RemoteApps still have common drive mappings attached with them so, for example, you can launch the RemoteApp for MS Word, and open and save files from shared locations such as your personal H drive, OneDrive for Business and other shared drives (e.g. J shared for staff or I Courses for students).
You can also launch File Explorer directly, browse to a file and open it from there. If you double-click a .docx file, it will launch the RDS RemoteApp version of MS Word and open that file. Similarly, other supported file types (e.g. most MS Office docs, PDFs etc) will open in their respective application when opened from File Explorer.
App settings are maintained between sessions too, so you can pin a favourite folder in quick access in Word and it will stay pinned for next time, as well as between different applications.
What is special about using RemoteApps at the Robertson Library?
Because the Robertson library is a shared space between the University of Otago and Otago Polytechnic, the machines there are set up so that students from either institute can login to their respective system and access their documents and print.
There is no underlying operating system visible because RDS RemoteApps are just the published applications themselves. You may find you need to make use of the ALT + TAB key combination to switch between open applications or bring an application back into focus.

Simply hold down the ALT key and cycle through all your open applications by pressing TAB.
To go back to the login page to launch a new application, ALT+TAB until the Internet Explorer icon is highlighted (with text matching the image below) and release the ALT key

There are dedicated hold/release queues for Black/White and Colour called "MPRINT_BLACK" and "MPRINT_COLOUR" which can be used to print a document and then the document can be released from most large Fuji-Xerox copiers around campus, including in the Robertson Library.


Most USB storage devices can be presented to your RemoteApp. Plug the USB device in after you have logged in and started your RemoteApp.
If it was plugged in before opening an application, simply unplug it, wait for 3 or so seconds and then plug it in again. The USB drive should show up similar to the below example - something like "E on TFXXXXX"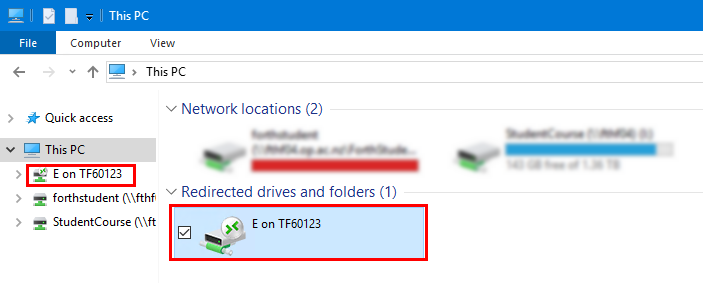 When you have finished it is important to log off before you leave. If you simply walk away, some of your applications could remain running and allow other users to view/access your files. This could include your private information and files such as those stored in your OP email account or within the Student Hub.
To log off when the application selection web page is still active simply click "Sign out" in the top-right corner. Any open applications will be closed as part of this so make sure to save any files first.
Please note that you may have to ALT + TAB to switch between your applications to focus this window before then choosing sign out:

If your application selection screen has timed out (which can happen in the background whilst you are working in other applications) then you have two options:
To launch a new application and continue working, simply sign in again and launch the desired app. Note that when the page has timed out like this, your other applications should have remained running, so you just pick up where you left off by signing in again

If you're finished anyway and want to leave,

ALT+TAB

to focus the Microsoft Edge window as per above (https://remote.op.ac.nz) and just hit the "Esc" key.

Hitting the 'Esc' key when this page is focused performs a soft reset, disconnecting your session and all applications you had open and will return the computer to the page where the University <-> Polytechnic selection is made
If a University student has used the computer just before you and hasn't signed off correctly you may find yourself looking at the University sign in screen. It looks like one of these: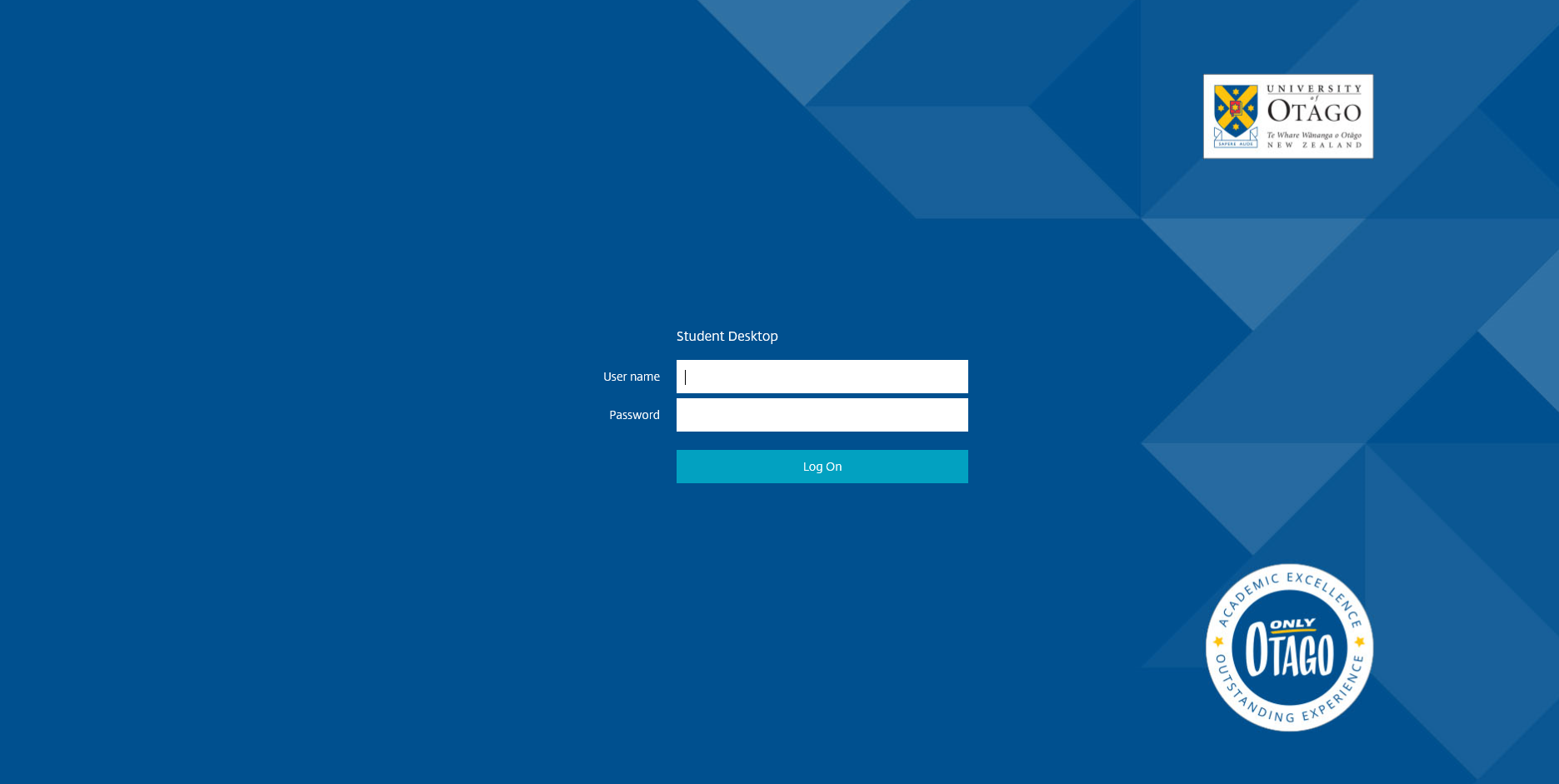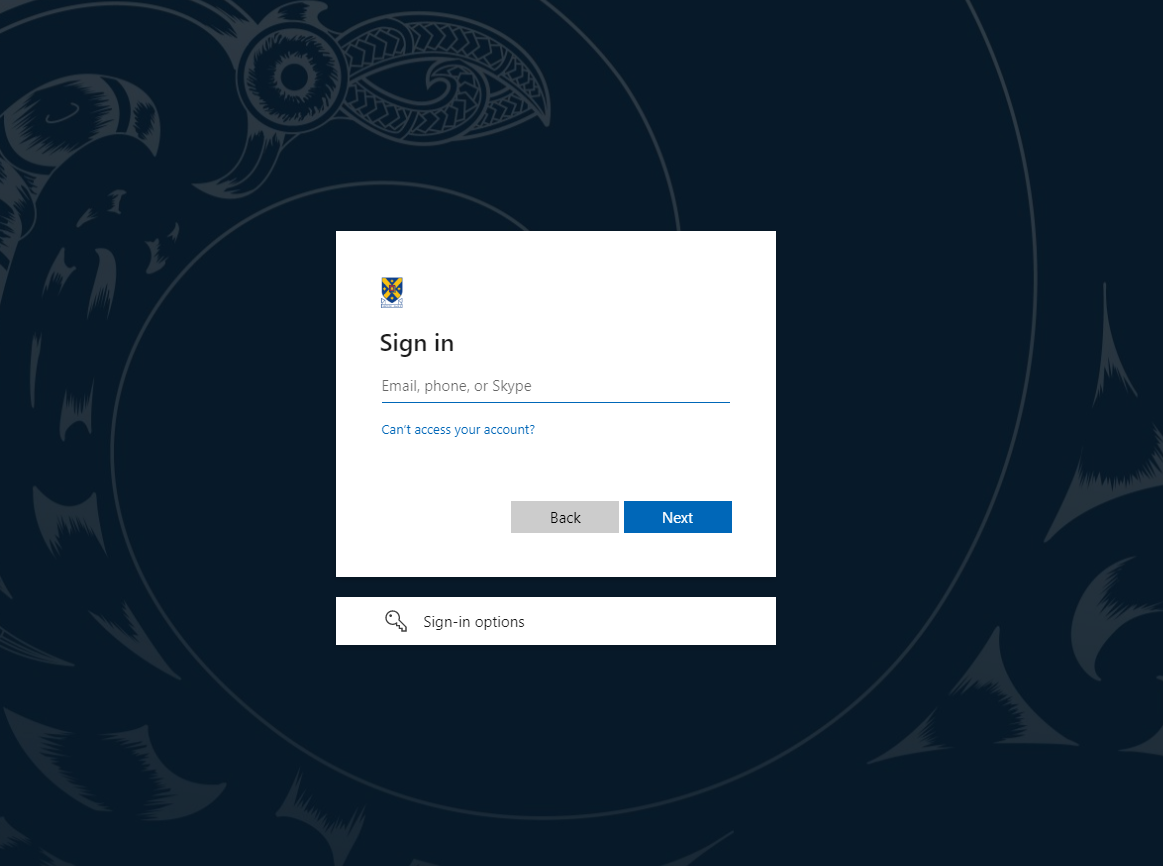 Simply click somewhere in that window and hit the 'Esc' key and you should be returned to the selection screen again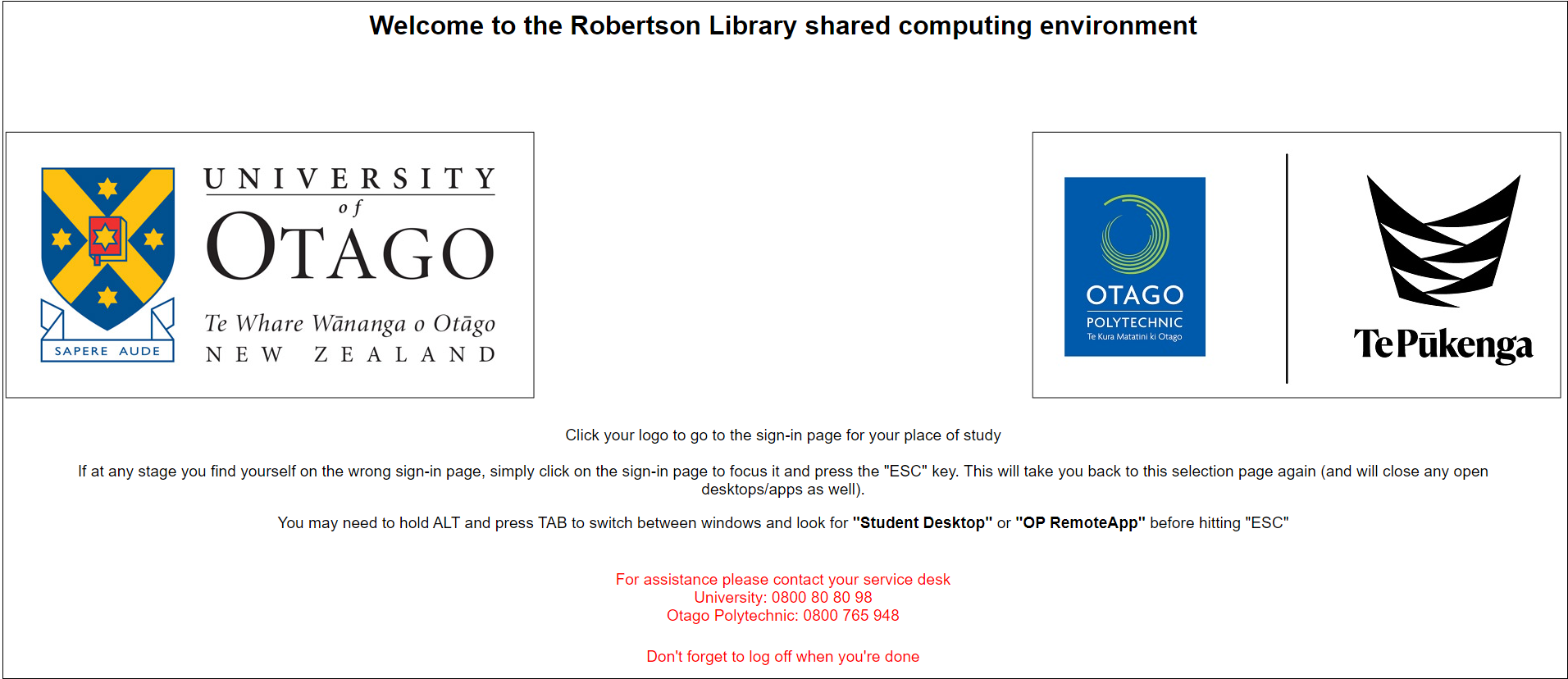 As always, if you have questions or need IT assistance please contact the Service Desk in the first instance:
Phone – 0800 765 948
Email – servicedesk@op.ac.nz
Web - https://service.op.ac.nz/
Further information:
Contact: Information Systems and Support through case creation.