Article owned by team:
Information Systems and Support
Brief:
This knowledge article explains how to setup and make use of the Otago Polytechnic RDS remote access system.
Other RDS knowledge articles include:
Detail:
Jump to Guide for:
For the majority of use cases simply running OP RemoteApps within a tab of your favourite browser may be enough. This can be achieved by using the HTML5 portal - it works in most major browsers (Chrome, Safari, Firefox and Internet Explorer) although may not work properly on mobile devices such as phones/tablets.

RemoteApps will launch within browser, and multiple opened RemoteApps will show a small tile along the top of the screen for ease of switching between them.

In a web browser go to remoteweb.op.ac.nz and you should see the screen below

Login using your normal OP username and password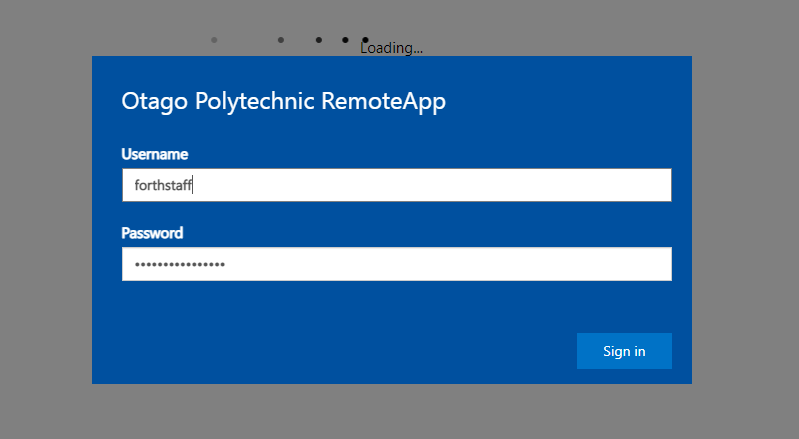 You will be presented with a portal showing all your available RDS RemoteApps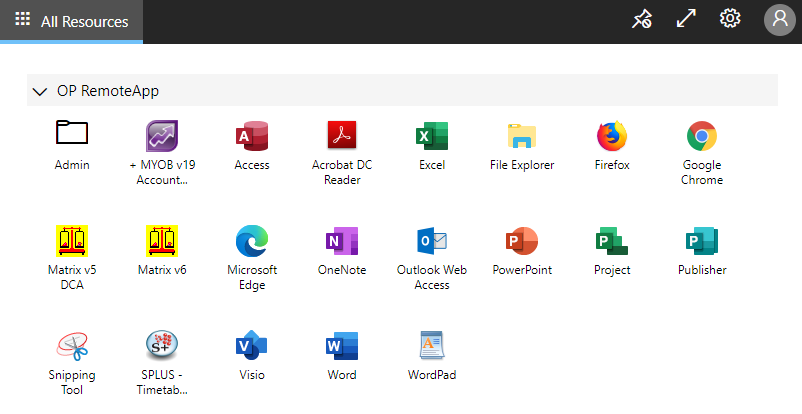 To launch a RemoteApp simply click on it
On first use, you may see a prompt asking you to allow access to local resources - click allow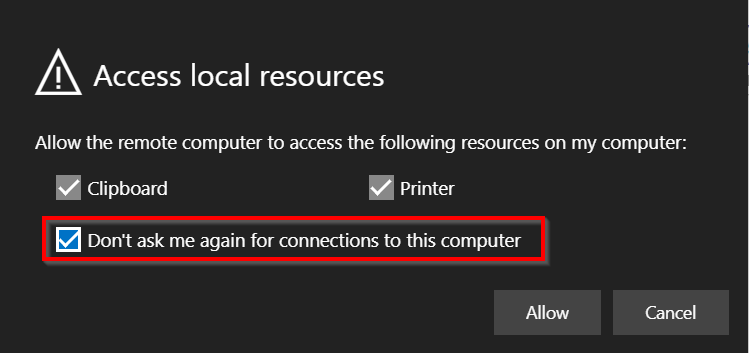 You'll see a screen similar to this for a short time and then the RemoteApp should open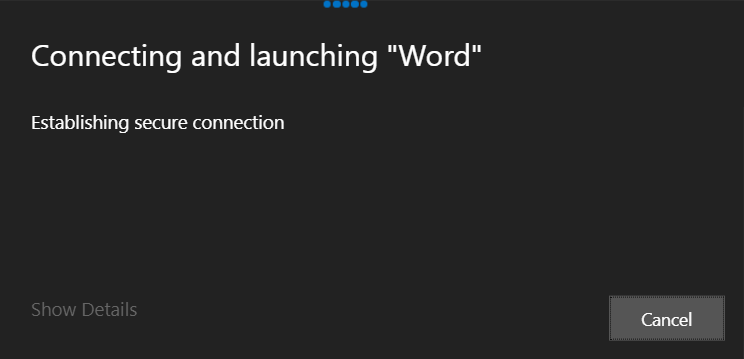 Opening subsequent RemoteApps can be achieved by clicking "All Resources" at the top left, and simply opening additional RemoteApps. Each different RemoteApp will show its tile along the top, and if you open more than one document at a time, the tile will show a number - hovering over the tile you can jump between the open documents:





To sign out, simply click the icon on the top right and choose "Sign Out" - remember to save your open documents first.

In a web browser, go to remote.op.ac.nz and you should see the screen below
Note: whilst all the major browsers should work with this portal, the easiest to use browser is Microsoft Internet Explorer. Other browsers may require you to enter your username/password an additional time when launching RemoteApps - especially if you are connecting from offsite.
In 2022 Microsoft officially ended support for Internet Explorer. The next best way to avoid the double authentication prompts is to use Microsoft Edge, and to configure "IEmode" for remote.op.ac.nz. This is a little bit involved so won't be covered in this article - please contact our Service Desk for more information on how to configure this.
Login using your normal OP username and password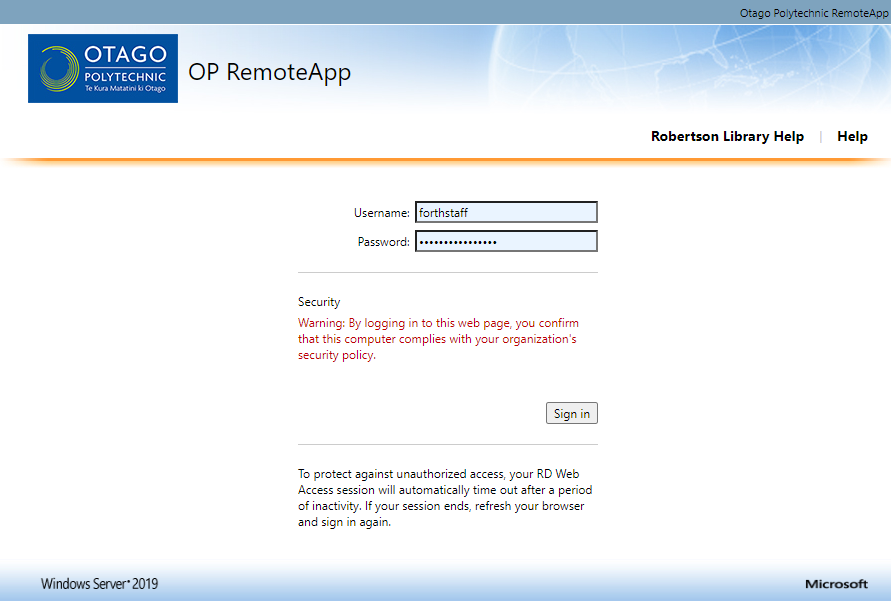 You will be presented with a portal showing all your available RDS RemoteApps.


To launch a RemoteApp simply click on it
You may be prompted to trust the publisher (e.g. Otago Polytechnic), click Connect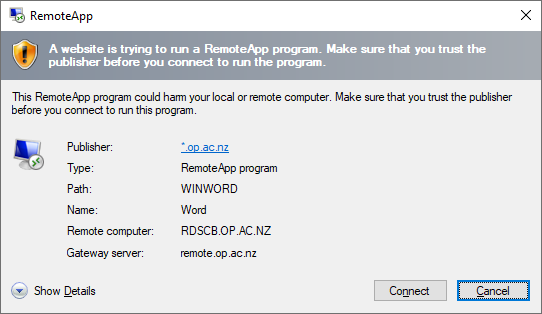 Your RemoteApp will launch, you'll see a screen similar to this for a short time and then your RemoteApp will open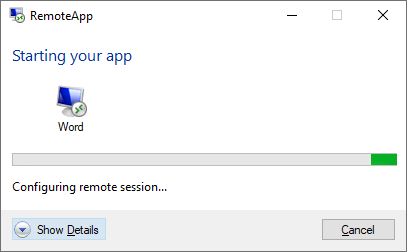 Note: If you are using a browser other than Microsoft Internet Explorer and are connecting to RDS from offsite e.g. from home, you'll likely see an additional prompt for credentials. The dialogue asking will look similar to this: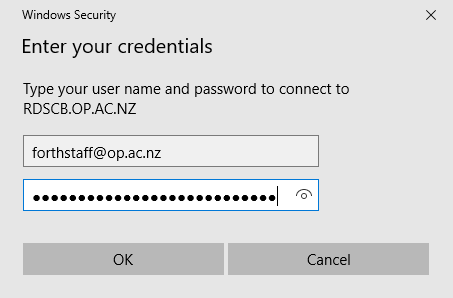 You can enter your username in either of these formats:
<username>@op.ac.nz e.g. jbloggs@op.ac.nz
opnet\<username> e.g. opnet\jbloggs
It is important to note that this is not the same as your email address.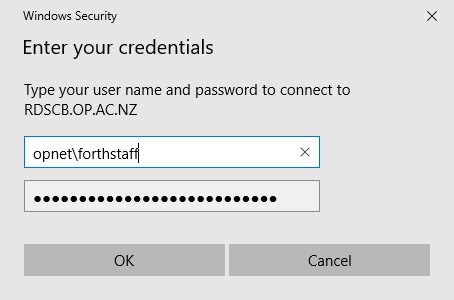 On Windows 10 and later operating systems it is possible to configure and launch your RemoteApps directly from Windows itself (no need to login and use a browser). There is no real difference or advantage in doing this - it is simply another way to find and launch the OP RemoteApps that you may prefer.
To configure this:
Start menu > type "remoteapp" and open "RemoteApp amd Desktop Connections" as shown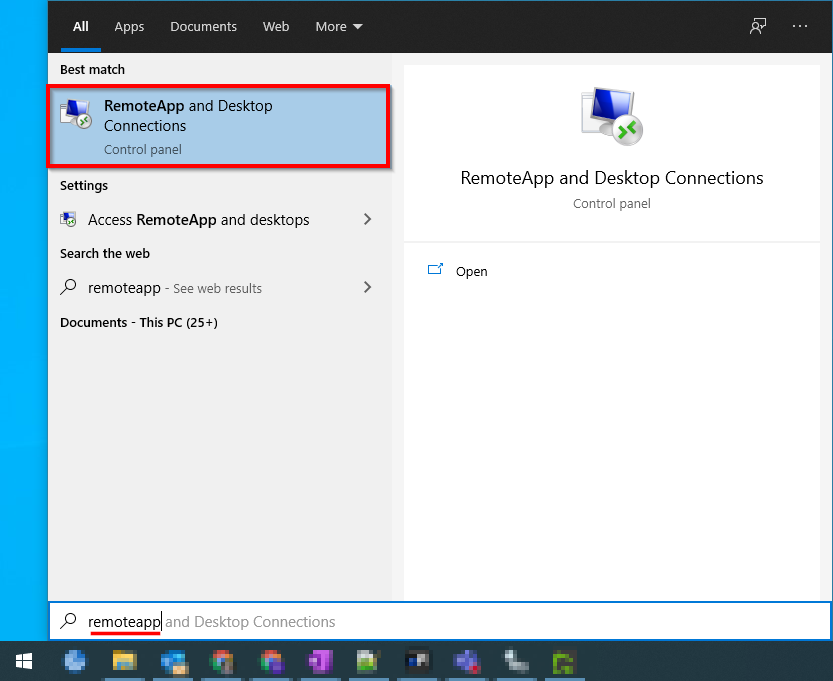 On the left hand side, click "Access RemoteApp and desktops"




When prompted enter the following connection URL "https://remote.op.ac.nz" (Note: if you don't enter it exactly as shown with the https prefix it won't work)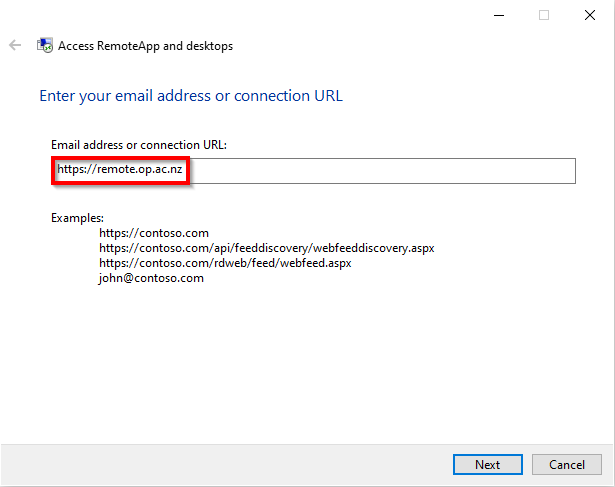 Click Next on the following confirmation screen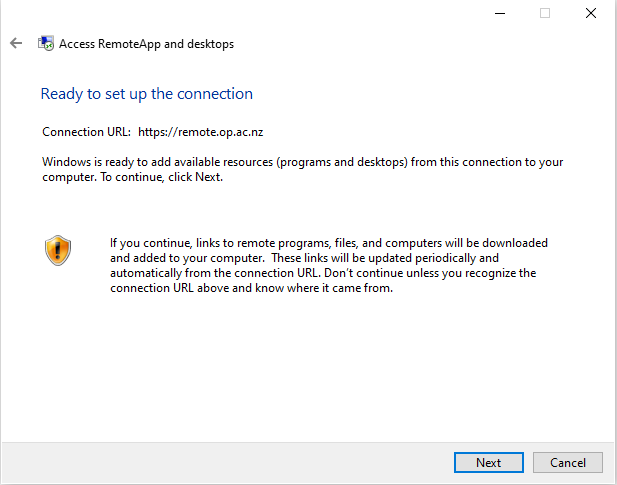 You will likely be prompted for your OP username and password.
If you enter your username in the format shown here, this should work from both on campus and offsite
Note: students can enter either
username@op.ac.nz or username@student.op.ac.nz - either one should work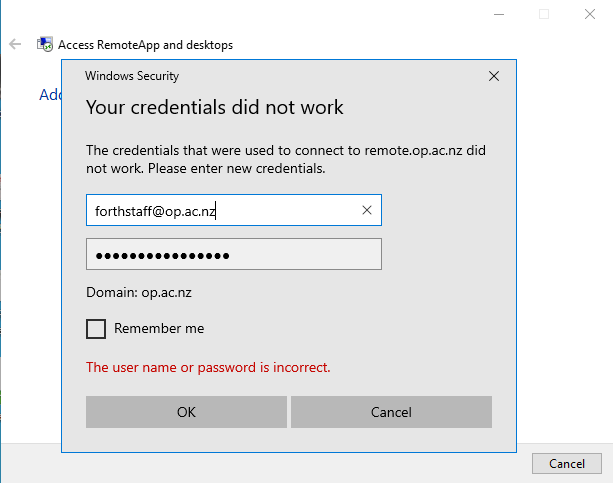 Once the connection is added successfully you should see a screen that looks similar to this one: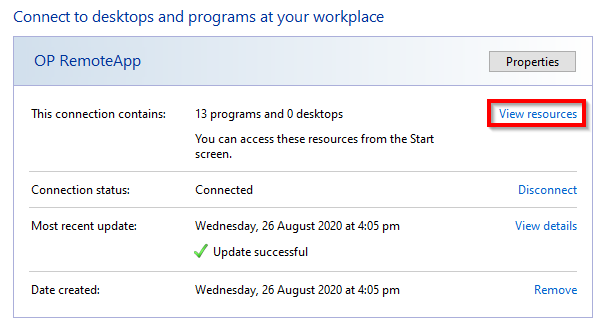 Click on the "View resources" link to see the RemoteApps you have available to you
To run any of the RemoteApps simply double-click to launch them, or access them directly from your Windows Start Menu. You will find them under the folder "OP RemoteApp (RADC)" as shown: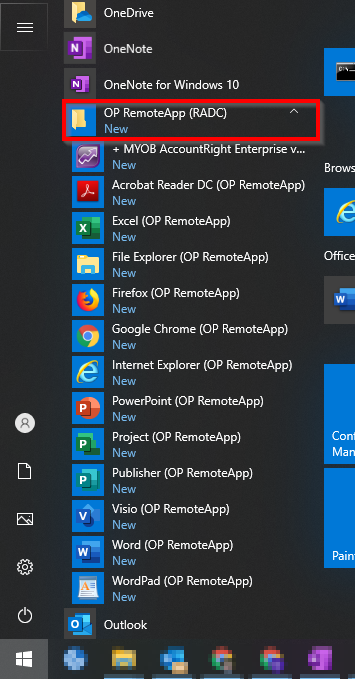 How to use RDS RemoteApps in Windows

RemoteApps opened within RDS will display on your screen, but behave as they would when located at the Polytechnic. This allows you to use apps from offsite that you could normally only use while on the Polytechnic network

For example if you needed to use an app you cannot usually access from home such as Finance One or EBS Central, you will need to open these apps via RDS and the behaviour will be similar to if you had run them as you would when on the campus network.



If you need to access a legacy network drive (Personal H: drive or Shared J: Drive) you can open the File Explorer to see and access these locations.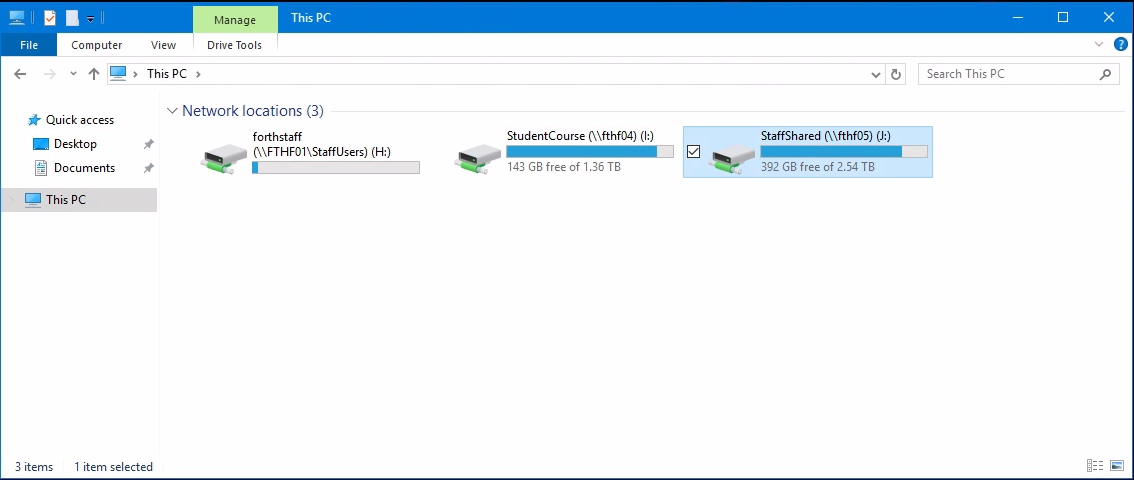 As of mid 2022 you should also see your OneDrive for business mapping within Explorer (and most published RemoteApps)
Open/Save files as you would normally to this OneDrive location but please refrain from caching bulk items to RDS as you will fill up your profile very quickly and your RDS experience/ability to work in RDS may be impacted.
e.g. don't click on a OneDrive folder and select "Always keep on this device"
OneDrive folders should mostly show the blue cloud icon as shown in the screenshot, apart from files you may have recently opened/saved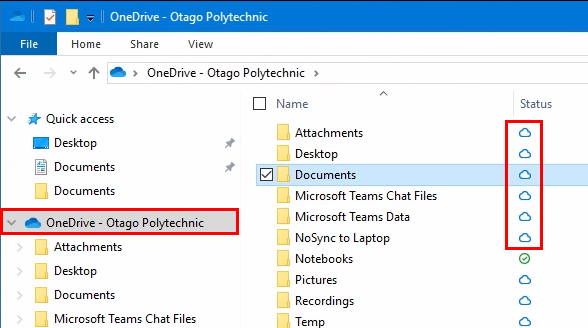 The browser apps within RDS (Google Chrome and Microsoft Edge) will give you access to websites you couldn't usually access from home (eg: EBS Ontrack or the Performance Excellence portal). Just open the web browser apps within RDS navigate to the Tūhono page, and follow the links as you normally would.

Other websites and apps that you can normally access from home do not need to be opened from within RDS.

For example: You can still access your Office 365 webmail without going in to RDS first.
However if you needed access to J: Shared to attach a document to send you would need to use RDS.
Another example: You can still use Microsoft Word on your local computer without using RDS first.
However if you needed to work on files on J: Shared you would need to use RDS.

Apple MAC

The mac client is compatible with MacOS 10.13 or greater.

To setup RDS on a Mac you first need to download "Microsoft Remote Desktop".
You can do this either from the App Store.
Once "Microsoft Remote Desktop" is install it will appear in your "Applications". You do not have to approve microphone access.
Click "Workspaces" then "Add Workspace".
Type in "remote.op.ac.nz" the Workspace URL will be filled in for you.
Click the "User account:" then "Add User Account"
Enter your username and password.
Click the "Add button" to complete the setup.
The "OP RemoteApp" workspace will now populate.
To switch between applications click the "Window" toolbar and select the application or to see the application workspace again click "Connection Center".
To modify the workspace, mouse over "OP RemoteApp".
You should then see three icons appear beside "OP RemoteApp". That allow you to Edit the connection (for instance change password), Delete (remove the workspace) and Refresh (updates the list of applications).
Further information:
Contact: Information Systems and Support through case creation.