Article owned by team:
Information System and Support
Brief: 
Otago Polytechnic's primary remote access solution is called RDS which is short for "Remote Desktop Services". Here's what you need to know.
Detail:
How do I get to RDS?
Head to https://remote.op.ac.nz and sign in using your OP username and password. Full instructions and explanations of the different types of access are available in this article here
 
Where can I access RDS from?
RDS is available on a number of different platforms. These include PC, Mac and most mobile devices, such as phones and tablets, where "Microsoft Remote Desktop" or "RD Client" is available in the relevant app store.
There is also a browser only access method which doesn't require any installed software - this may not work on mobile browsers such as phones/tablets but can be used in situations where you need a light touch quick way to access resources. For details refer to the full RDS article here.

Accessing RDS applications works both within the internal campus network as well as externally (from home or another remote campus) – essentially wherever there is an internet connection available.
 
With RDS, you launch one or more published applications which are called RemoteApps. There is no visible operating system as it is only the apps themselves that are published.
 
File Access – H and I drives
Apps still have common drive mappings attached with them so, for example, you can launch the RDS RemoteApp MS Word, and open and save files from shared locations such as your personal H drive, OneDrive for Business and other shared drives (e.g. J shared for staff or I Courses for students).
You can also launch File Explorer directly, browse to a file and open it from there. If you double-click a .docx file, it will launch the RDS RemoteApp version of MS Word and open that file. Similarly, other supported file types (e.g. most MS Office docs, PDFs etc) will open in their respective application when opened from File Explorer.
App settings are maintained between sessions too, so you can pin a favourite folder in quick access in Word and it will stay pinned for next time, as well as between different applications.
Answers to some FAQs:
Can I print from a RDS RemoteApp?

Yes, in most cases if you have a printer installed already on your computer, you will see this in the print dialogue of the RemoteApp and can print directly to it. This should include most installed printers, both at campus (for example something like a Fuji Xerox MFD) as well as your own home printers.

These pass-through printers show up a little differently and you can identify them by the "(redirected X)" to the right of the printer name as shown in the example below:





There are also dedicated hold/release queues for Black/White and Colour called "MPRINT_BLACK" and "MPRINT_COLOUR" which can be used to print a document and then the document can be released from most large Fuji-Xerox copiers around campus, including in the Robertson Library.




How can I tell RemoteApps apart from apps that are installed on my computer?

RemoteApps (e.g. applications that are launched from remote.op.ac.nz / RDS) show up in the taskbar just like normal apps that are installed on your computer. However, the icon in the taskbar will be slightly different and will include a small RDS overlay as shown in the example below.

The first three apps are RemoteApp, the last three are exactly the same apps launched locally:

Why am I getting a strange prompt for my password again?
Connecting from offsite using a browser other than Internet Explorer you may see an additional prompt for your username and password. Your username can be entered either as username@op.ac.nz

 or opnet\username as shown in the following examples: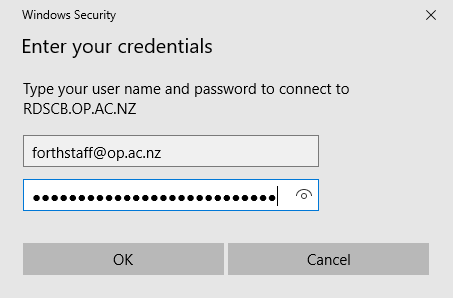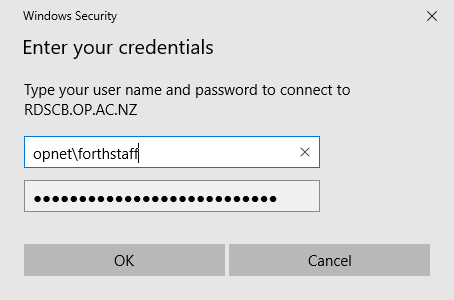 You'll only see this additional prompt when accessing Remote Apps from remote.op.ac.nz, you won't see it if using the lite HTML5 version (remoteweb.op.ac.nz)


 
Further information:
Contact: the Service Desk through case creation.