Article owned by team: Information Systems and Support
Brief: 
Eduroam is a free secure wireless network. It is available at all OP campuses and other participating institutions in New Zealand and internationally. These instructions will assist you to connect your OS  X device to the eduroam network.
Detail:
1) Find eduroam in the list of available wifi networks and connect.

\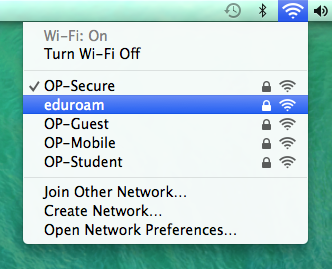 2) In the username and password fields enter your credentials.
Your username is your normal login with @op.ac.nz appended. For example, if you normally login with jsmith you will login with jsmith@op.ac.nz; for students, if you normally login with smitj1 your login will be smitj1@op.ac.nz do not use smitj1@student.op.ac.nz as this will not work.
Your password is your regular network login password.

\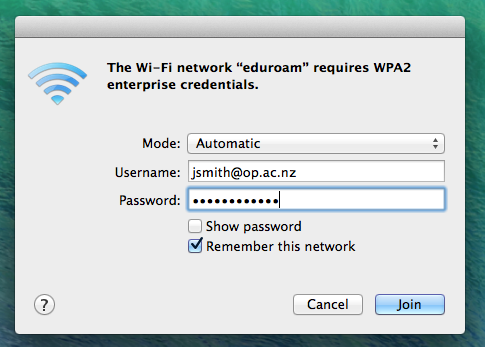 3) If it is the first time you have logged into eduroam you will be asked to verify the certificate that is used as part of the connection process.
 
Ensure the certificate has been issued to eduroam.op.ac.nz and the certificate is valid.  The below screenshot shows where this information is shown.
If either of these details are incorrect do not connect. If they are correct click continue and you will be connected to eduroam.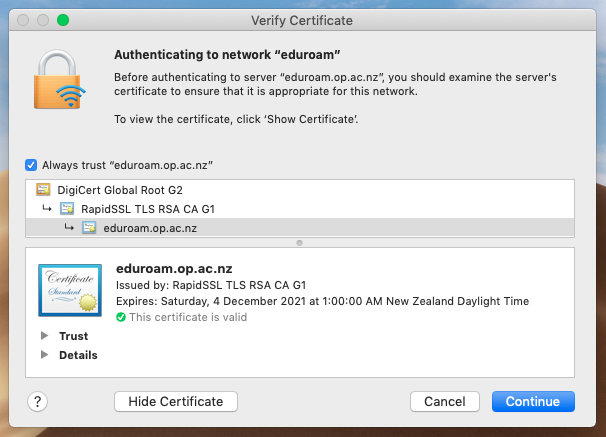 Further information:
Contact: The Service Desk of the institution where you are connecting from.